Welcome to Xstream Wireless.
We would like to announce that Xstream Wireless was recently acquired by Blueriver Networking Services, a WISP based out of Salem Indiana. We have been in business since 1997 and look forward to serving you. If you have any questions, please feel free to contact us!

We are proud to announce we are now offering High Speed Internet to Cortland, Seymour, White Creek, and Tampico. Check out our new and updated coverage map to see if our service is near you.

About Us and Contact Info
We are a locally owned and operated Internet Service Provider. We provide high speed internet service to rural areas that have limited internet service availability. Our goal as company is to provide rural communities high speed and reliable internet service.
We have designed our whole network around being able to expand and upgrade. What does this mean for you? This means we will monitor all of our performance 24 hours a day 7 days a week making sure we provide the best quality of service possible. Other similar providers get to a point in time where too many people are online at the same time causing everyone's service to slow down but luckily for you we are monitoring our network and have the ability to upgrade our systems to adjust to the number of customers preventing such problems.

You can contact us at 812-497-4141 or via email at support(at)blueriver.net

The diagram below is a very good representation of how wireless internet works. The blue cloud on the left represents the internet. Next to that is a building representing our company and the systems we use to manage our customers. From there we use wireless radios to bridge the gap between us and remote areas where little to no internet service is available.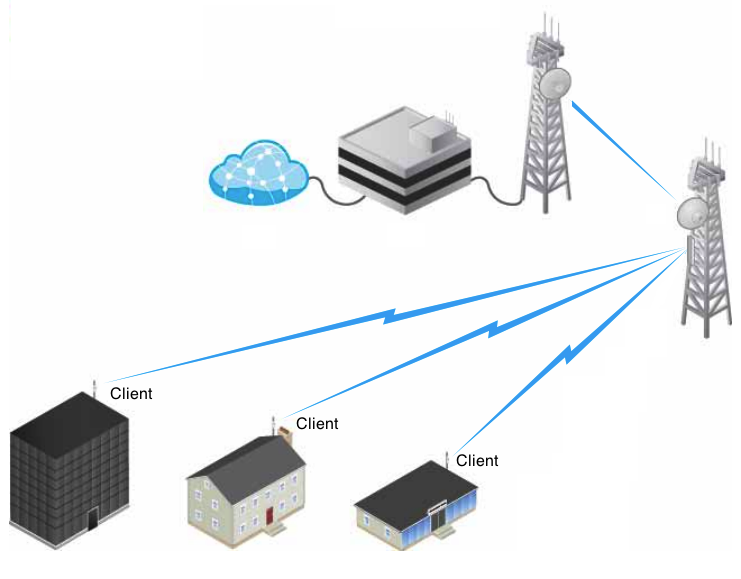 Our plans are not limited to residential or business only. They are categorized as Residential and Business to give customers a recommendation / guide on what we recommend. Installation price can vary depending on location and distance from our towers. Normal installations cost $75.00 which includes 2 hours of labor, cable installation, mounting and programming of equipment. Site surveys are required and installation costs will be determined at that point.
Recommended Residential

Tier 1- Average Usage $40.00
Up to 2mbps download
Up to 0.5mbps upload
Tier 2- Some Streaming $50.00
Up to 4mbps download

Up to 1mbps upload
Tier 3 - Gaming & Streaming $65.00
Up to 6mbps download
Up to 1.5mbps upload
Recommended Business

Tier 4 - Heavy Usage $100.00
Up to 8mbps download
Up to 4mbps upload
Tier 5 - Extreme Usage $150.00
Up to 10mbps download

Up to 5mbps upload
Requirements: Customers must sign a one year contract on the date of activation. A $12 maintenance fee will be added to your monthly bill. This will cover hardware replacement and labor for any repairs needed to maintain your connection.

Congratulations on becoming a Xstream Wireless Customer. In this section you will find details about our service agreement, user policy agreement, and bill pay. Please read the information below and contact us if you have any questions or concerns.

Definition: An agreement signed by a customer at the time the account is opened, detailing the conditions of the customer's relationship with the service provider. We will post all changes to our service agreement here on our website.
Billing and Payments
Installation will be invoiced within 48hrs of installation. All invoices sent via email on the 26th of every month and due within 14 days. Customers may pay online, via check, or auto pay. All checks must be made out to Blueriver Networking Services and mailed to PO Box 297, Salem IN 47167. If you would like to view invoices, manage your account, or setup autopay please log into the customer portal. If you need help logging into the customer portal please click the Custmer Portal Help link below.